Address from the Coordination Committee Chairman
Address from the Coordination Committee Chairman, Mr. Bert Panman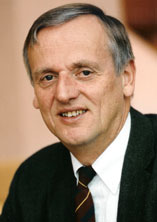 The IGU is providing for an excellent network of gas industry professionals as well as for a vast source of information for its members.
The work that is needed to maintain and expand the network and update and increase the source of information is described in the Triennial Work Programme for this Triennium.

The Triennial Work Programme for the Triennium 2003 – 2006 has two main goals:
To promote gas 
To increase the added value of membership
The Vision, Mission and Objectives of the IGU, together with the Strategic Guidelines, form the basis for this Triennial Work Programme. 
The activities in the Triennial Work programme will be carried out by Committees, Task Forces and in Special Dutch Presidency Projects. 
The scope of work of the committees includes marked attention to the possible use of benchmarking, which is viewed as a potentially valuable tool that needs further evaluation.
Two task forces have been established. A first task force on R&D, taking on the present challenges generated by the changes in the gas industry. The second task force, on ICT, will follow up the work of task force A in the Japanese Triennium, thereby broadening the scope to energy.
On behalf of the Dutch gas association (KVGN) and the Dutch gas industry, the Coordination Committee will initiate three special projects: "The gas route to a Sustainable Energy system", "Regulation and Gas business" and "Gas to Power".
We will provide the members with easy access to up-to-date information of the gas business and the work carried out by the committees in the context of the TWP. 
One of the major tasks of the IGU is to promote gas. Cooperation with other energy related organisations such as the World Energy Council (WEC), World Petroleum Congresses (WPC), the IEA, Intergas Marketing, Eurogas, Energy Research Programmes of the EC, and the International Association for Natural Gas Vehicles (IANGV) is a good way to achieve this. 
In the Triennial Work Programme for this Triennium several examples of cooperative study subjects are listed and the results will become available in the course of this Triennium. Based on the combined effort of IGU Management and the Committee, Taskforce and Project members we will be able to present an inviting programme for the 23rd World Gas Conference in Amsterdam that will inspire many authors in the energy world to contribute their papers and attract a wide audience.
I am sure that this Triennium offers many interesting challenges and opportunities that need to be addressed by the IGU to continue its successful journey. In our opinion reflects this Triennial Working Programme these challenges and opportunities. The challenge to all of us involved in the work is to perform at a level that is consistent with the role of the IGU as the acknowledged global authority in the gas world.
Bert Panman
IGU Coordination Committee Chairman 2003-2006