Dear current and future member of IGM
For our last and first session, the last in the current structure and organisation and the first as an IGU special Committee, we have been invited to Budapest. This gives us the opportunity once again to visit a fantastic European city.
This meeting will be special in that we have also invited IGU members to attend and to become part of the IGU Marketing Committee (IGM). We hope to see all our current members and many IGU colleagues, coming together with the common goal of influencing on the organisation and future of the special committee, that IGM has become in the new triennium.
Please find herewith the documents for the session (please send additional presnetations to the Secretariat for upload):
* The contact details (updated on 10 October 2006)
*Meeting document: Draft procedures for The IGU Marketing Committee (IGM)
*Meeting document: Schedule and plan for Intergas Marketing / IGU Marketing Committee (IGM)
*Welcome letter from our Hungarian hosts
For further details on Budapest and the session, please see the IGU and IGM web sites, where additional information will be posted continuously.
The next session takes place on 29-30 September in: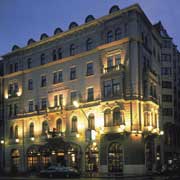 Radisson SAS Béke Hotel
1067 Budapest, Hungary
Teréz krt 43
www.radisson.com/budapesthu
Get inspired and prepare yourself by visiting:
the web site of the Budapest Tourist Office. Our hotel is located in the city centre, on Grand Boulevard of Pest. The hotel has been renovated and modernised several times since its opening in 1914, but has retained its original form and atmosphere. It also offers a garage for those arriving by car. The cost of accommodation is per night EUR 132 (single) or EUR 140 (double).
Please register as soon as possible and no later than 15 August 2006 to guarantee hotel accommodation.
Please observe that the registration form should be sent (e-mail or fax) to both the addresses mentioned on the front page i.e. to our Hungarian host and to the Secretariat.
I am looking forward to seeing you in Budapest.
Yours sincerely

Peter K. Storm

Secretary General